Clubfoot Education Online
In November 2021, we will announce our new date and format for the 2022 Clubfoot Africa Conference.
As a lead up to the conference, in November and December 2021 and January 2022, we will host the three-part Expanding Clubfoot Treatment Webinar series featuring some of our 2022 Clubfoot Africa Conference faculty and other global clubfoot thought leaders.
This follows on from our first webinar series 'Clubfoot Clinic Coordination', presented by Steps Clubfoot Africa Education in June and July of 2021.
Sign up to be notified about webinar and conference updates.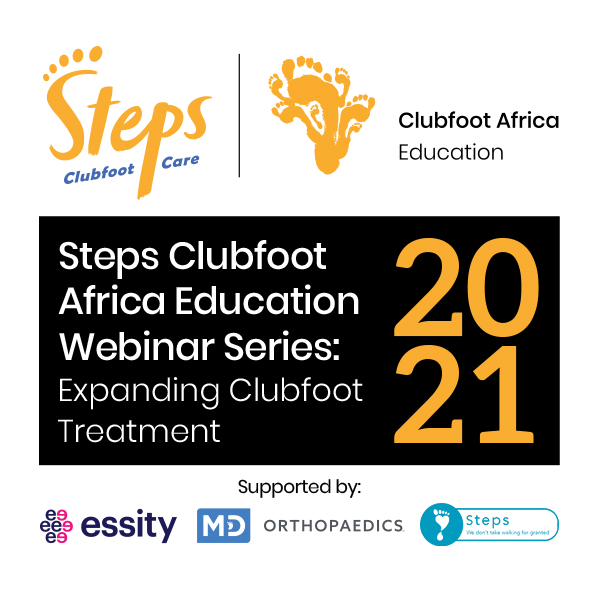 2021 STEPS CLUBFOOT AFRICA EDUCATION WEBINAR SERIES: 'EXPANDING CLUBFOOT TREATMENT'
This webinar series provides an opportunity to discuss the latest studies and knowledge on key aspects of clubfoot treatment. There are three webinars: 26 November and 7th December 2021 and 23rd January 2022.
Duration: 90 minutes per webinar
Start Time: 14h00 SAST (UTC+2)
Format: Each webinar in the series has a Keynote talk, followed by a Global Panel Discussion of the topic, and a live Q&A session
CPD Points: 3 (South African registered health care professionals)
UK CPD Points: Application pre-approved.

Recordings of the webinars will be available online if you are unable to attend live. Q&A session is only available for the live webinars.
Dr Ponseti only encountered atypical and complex clubfeet many years after he developed his method. He produced a video at the University of Iowa Children's Hospital with an adapted treatment protocol for atypical clubfoot. This webinar will explore the treatment protocols for both.
📅  23 November
At the time Dr Ponseti was developing his method, clubfoot was mostly treated by orthopaedic surgeons. With the introduction of a less invasive treatment for congenital clubfoot, the role of allied health professionals became a vitally important addition to clubfoot services. This is especially relevant for countries with resource constraints where there may be a shortage of doctors. It can also reduce treatment costs for government programmes globally. There are already many allied health professionals practicing Ponseti, and this webinar aims to discuss their role.
📅 7 December
Dr Ponseti developed his protocol for infants. However, there were doctors who were faced with much older children once they established the Ponseti method in their country in the early 21st century. These doctors were the first to try the Ponseti method on much older children. There is still a problem of many untreated cases globally which is due to lack of awareness about clubfoot, or lack of means to provide or access treatment. There are also recurrent cases of clubfoot in older children globally that need repeat treatment. This webinar is intended to discuss the latest thinking on clubfoot treatment for the older child.
📅23 January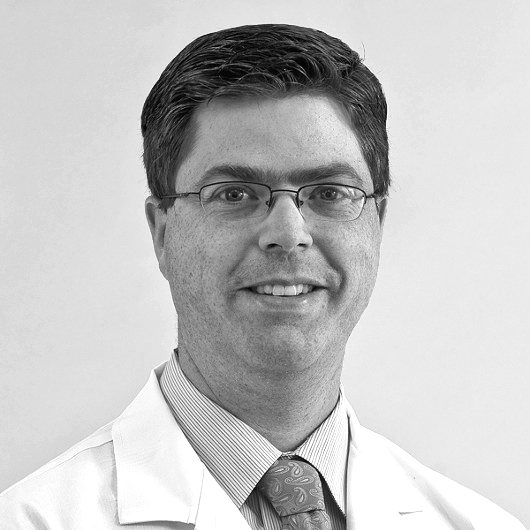 Director Dobbs Clubfoot Center, Paley Institute, Florida USA
Dr. Dobbs specializes in pediatric orthopaedic surgery and is the founder and director of the Ponseti Clubfoot Treatment Clinic. He is nationally and internationally recognized for his clinical work, research, and innovation and is consistently listed in Best Doctors in America. Clinically his focus on minimally invasive surgery led to the development of a novel treatment for congenital vertical talus which like the Ponseti method for clubfoot treatment avoids extensive surgery. He is currently President of the United States Bone and Initiative, President of the International Federation of Pediatric Orthopaedic Societies, Secretary of the Association of Bone and Joint Surgeons, and Research Academy Chair for SICOT. Additionally, he serves on the Board of Directors for the Orthopaedic Research and Education Foundation, Miraclefeet, and the Missouri State Orthopaedic Association, and has served on the Board of Directors for the American Academy of Orthopaedic Surgeons and the Pediatric Orthopaedic Society of North America. He is currently Chair of Grants for the Orthopaedic Research and Education Foundation, and Treasurer for the Missouri State Orthopaedic Association. He and his team are actively searching for the genetic factors responsible for clubfoot, scoliosis, and other musculoskeletal anomalies. Along with Dr. Christina Gurnett, Dr. Dobbs is co-director of the Washington University Musculoskeletal Genetics Laboratory, which is NIH RO1 funded. Dr. Dobbs earned his medical degree from the University of Iowa in Iowa City in 1995. Following a residency in orthopedic surgery at the University of Iowa Hospital and Clinics, he completed a fellowship in pediatric orthopedic surgery at Shriners Hospital for Children in St. Louis.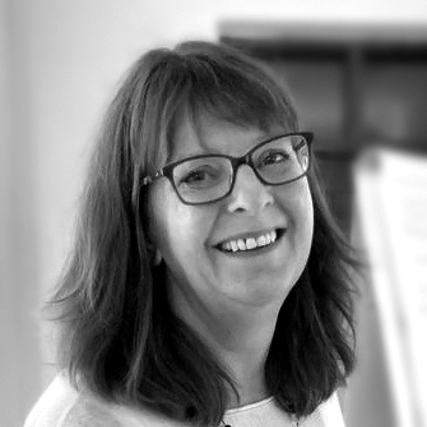 Extended Scope Physiotherapist
Chelsea and Westminster Hospital NHS Foundation Trust
Denise Watson is an Extended Scope Physiotherapist in Paediatric Orthopaedics at Chelsea and Westminster Hospital NHS Foundation trust, and has more than 30 years of experience in the NHS. She specialises in treating clubfoot and lower limb deformity in children.


She works at Chelsea and Westminster Hospital which has a specialist clubfoot unit. She is particularly interested in the treatment of complex, relapsed and atypical clubfoot using the Ponseti method. She is passionate about providing excellent treatment for children with Clubfoot and sees families from all over the UK (and abroad) for tertiary referral.


She regularly trains healthcare professionals in the Ponseti clubfoot management in the UK and abroad and has worked with Global Clubfoot initiative and several NGOs in the development of the Africa Clubfoot Training Programme, visiting Ethiopia, Kenya and Tanzania. She has also taught in Bangladesh, Belarus and Hungary and Myanmar. She is part of the UK Clubfoot consensus group who have been working with Global Clubfoot initiative to develop a Global Clubfoot Training programme in the Ponseti method, accredited by the Royal College of Surgeons for the UK and more suited to higher income countries.
Head of Orthopaedics
St Stephen's Hospital, New Delhi, India
Dr Mathew Varghese is Honorary Director for Cure Club Foot International, India Trust.
He is a graduate and a post-graduate in orthopaedic surgery from Maulana Azad Medical College, University of Delhi. He is currently the Head of the Department of Orthopaedics, St Stephen's Hospital, New Delhi, and served as Director of the hospital from 1999- 2006. He was instrumental in changing the profile of the hospital to a super-specialty tertiary care centre even while maintaining a large community outreach programme.


He was nominated in 2018 by Bill Gates as one of the Five Heroes in the field that inspires him. He has specialized in trauma care with particular emphasis on reconstructive surgery for trauma and deformities in adult and paediatric patients.


He gave the Presidential Guest lecture at the 2018 British Orthopaedic Association Centenary year annual meeting titled 'Orthopaedics in an unequal world – my journey from learning to understanding'. He was the first Indian to give this lecture in a hundred years of the BOA.


He was nominated Chairperson of a committee to evaluate disabilities in Children with Cerebral Palsy by the Ministry of Social Justice and Empowerment, Government of India. He received the Award of Honour for Reconstructive Surgery in Polio Patients in 1996, the National Award for Excellence in Medicine by the T. P. Jhunjunwala Foundation for the year 2004-2005, and the Distinguished Alumnus Award – 2007, Maulana Azad Medical College, New Delhi.
We thank our sponsors for their support
If you missed out and would like to receive access to the videos for the 3-part series, The recordings are available to watch on Vimeo:
This webinar series focused on all the aspects of running a clubfoot clinic that is not medical treatment.
Basic Clubfoot Knowledge: How to Recognise it and Treatment, with a focus on the Ponseti method
Defining the Non-Medical Tasks in the Clinic and Communication Channels: – Parent Education, Data Capture, Brace Support, etc.
Support: Understanding the Key Points of Parent Education and Support to Increase Adherence to Treatment
Data: Reviewing Current Data Capture Tools, Types of Data, Submission and Use of Data
The Clubfoot Brace: Types of braces, the Importance of the Clubfoot Brace,
Increasing Adherence
Clinic Processes: Reporting from the Field, Discussion of Challenges and Solutions in Low-
Resource Settings
Advocacy: Sharing Success Stories, Reducing Stigma, Increasing Early Diagnosis.
We thank our sponsors for their support
"I have been trained on Ponseti and the management before and have been running a clinic, but the approach Steps take in the parent education was very valuable."
"All in all I congratulate you for the stunning seminars. it is not easy to pull off a full series of recorded sessions. Maybe I am also a bit longish in the field, so most things were not new for me, but nevertheless I enjoyed them and also the whole blend of topics. I think you really tried to be inclusive and that was great to see!"
"Proper education about clubfoot care to the parents/caregivers is very important. I watched two mothers giving testimonial stories, it would be really an impression for any treatment provider to hear it."
"I have realised that parent knowledge and understanding has a huge impact on compliance to treatment."
Get notified about our next live conference coming in 2022!